You Better Sit Down For This: The Stand Up Desk [Review]
The Stand Up Desk
The stand-up desk, or sit-stand desk, is riding a wave of reviews, videos, and sales. When you work from home, choosing a desk that provides more function is key.  Google search term for 'virtual office' is fairly popular while 'standup desk' peak and wane as any other search term but was very popular in March of 2019.  If you are reading this, you probably work many long hours at a keyboard and mouse driving knowledge from one place to another.  You probably suffer from neck tension and shoulder strain from hours of knowledge laden monitor screens.  After working in technology for +twenty behind a desk, I think I have some observations that will help you decide whether or not you need or want a fancy autonomous (automatic) sit-stand desk or maybe you just want two saw-horses and a flat surface at standing height!
I currently work remotely in a home office but since 1995, I have worked at desks in offices, computer terminals in chilled network rooms, at a cubicle drowning in a sea of prairie-dogging-knowledge-workers and stuffed in an old document storage room with dividers made out of fabric covered cubicle components pretending to be walls.  Healthy advocates are promoting well-being and a healthy lifestyle by hyping the stand-up or sit-stand desk.
The Truth About Stand-up Desks and Health
Let's face it, you can understand health approach with stand up office desks but you won't burn many more calories just standing there working versus sitting.  The best thing about a stand-up or sit-stand desk isn't that you can pace or burn calories moving around while standing, it's being able to get away from the desk.  If we look at the real reason for standing at your desk I believe we wouldn't venture too far in our study about over-work until we arrive at the truth:  desk versatility for knowledge workers allows them to work longer hours.  It has nothing to do with promoting health but everything to do with how hard it is actually to sit at a desk all day long for eight hours.  Employers know this and some will go so far as to help you get your first sit/stand desk setup.
If you stand all day at a stand-up desk you will also suffer some consequences on your back, legs, and feet.  Healthy is active, and active means moving.  If an employer encourages stand-up desks but doesn't also offer healthy snacks, exercise opportunities, or wellness coaching then what is the goal?  Longer hours.  There are so many ways for employers to engage and enable healthy lifestyles (here are 121 ways!) but standup or sit-stand desks need to be only a tiny part of that.  With all those mechanisms to gain healthy employees, it is really the ones who are shackled to laptops or computers and require those for everyday tasks and activities.  Just acquiring a desk to stand at does not make one healthy so let's look at how one might help if we adjust our mindset.
Stand Up To Sit Down; Now Stand Up
When I began shopping for a stand-up desk, I knew that I would also need a place to sit down for research/knowledge work.  I loved the idea of being on a video conference call and being able to move around in a standing position but didn't like that idea for creating a detailed project plan or writing long documents.  I started with the desk converters you can put on top of a regular desk but quickly ruled them out because when I sit at a keyboard I like having the keyboard practically in my lap.  Then I considered the manual crank sit-stand desks and knew that it would take a small workout to raise or lower the desk into position.  While the workout would be great, the timing would be an issue.  The issue with manual crank desks (they also have them without the top in case you have an old desktop you want to convert) is that if I'm in a video conference and need to raise or lower the desk then I might have to pause the meeting in order to do so.  I wanted something that I could quickly, quietly, and easily put the desktop in at least three heights.
Height Adjustments Are Key To The Stand-up Desk
Three heights? Why would you need three heights?  One for standing (moving around or rocking side-to-side), one for sitting in a very comfortable position (in a nice executive soft chair), and one for sitting in a taller drafting chair for focused work.  You might say, why a drafting chair?  If you've seen any of your co-workers with a standing desk, inevitably you'll see something they use to lean on, perch on, or generally sit on but at standing height.  The problem is that you'll become so engrossed in your work that the ability to move around on one of those things loses its appeal very quickly.  The drafting chair (like mine) has arms that can be raised up and is on wheels for movement.  I think that's plenty and it has a slight forward tilt for an aggressive "fit".  The chair's highest setting is great for my desk half of the time, and the lowest is best for when my favorite pup runs in the office for a treat!
Here is the key: versatility not only in desk height but sitting height/comfort as well.  I stand probably 20%, lowest chair 40%, and drafting height chair 40%.   I've also noticed on Friday's I stand more because I'm exhausted from sitting all week.  Having multiple sitting or standing heights with the desk and chair will increase the value because you won't be limited to just one height.  In a home office virtual environment with my colleagues, the room can become boring very quickly so using three different settings allows me some flexibility in my space.  But what about adjusting the height?  Let's get to that!
Autonomous Office Desks
If you've done your homework on stand-up or sit-stand desks that have automatic height adjustments, you'll know they are fairly expensive.  The desk I finally chose was an Autonomous Desk from Autonomous.ai.  I got the extra long white model and did need a little help to flip this thing over once I got it put together.  It's very heavy duty and I love the fit and finish.  It only took a few minutes to find the heights I wanted and programmed into it.  You can also manually adjust but having those heights programmed in is perfect because it only takes a few seconds to get to the height I need and it's very quiet.  Here's a big tip:  check Amazon's price against Walmart.com.  I saved $60 by switching to Walmart and got the desk just as fast (Amazon makes finding more variety easier).
The photo below is linked to Walmart's lowest price for the dual motor XL!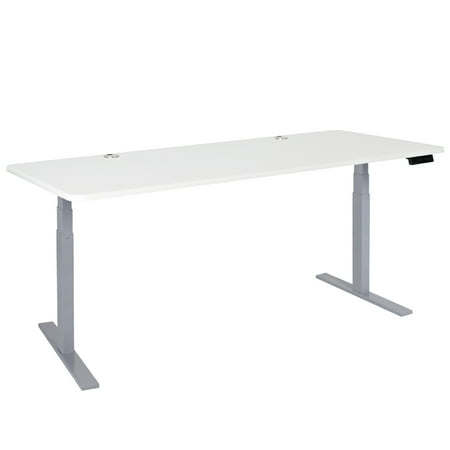 Autonomous also has them sometimes at a lower price so you could order it direct.  Be watchful for price fluctuations and compare the two before you purchase.  Amazon or Walmart, the desk will be shipped in the Autonomous box.  If you use Google Chrome there is an extension to help you when shopping and comparing prices.
The Packaging
The desk came in a double padded box.  If you, like me, have ordered things only to have corners damaged by rough shipment, know that the box Autonomous ships the desk will protect it from drops, although it's so heavy I don't even know how the UPS driver got it to the door.  I took the outer box off so I could bring in piece by piece.  The outer box had some scrapes and bumps but it didn't touch the inner packaging.  I would feel comfortable putting heavy wheels on this thing and having an ability to change office configurations often meets my requirements.
The Office Desk: Should I Stand?
If you are looking for a stand-up or sit-stand desk I highly recommend the Autonomous one like mine as well as multiple sitting options.  This has enough configurations to allow you the flexibility in your office environment.  In your virtual office, you need the flexibility to move around and sit at varying heights.  In an office or cubicle atmosphere, you might feel a little weird ordering an adjustable desk but on those days when you just need to get out of that sitting position, it will prove your most valued office expense!  Yes, you should stand!  And then sit down.  Then maybe stand back up.  Or sit down.  Maybe like me, you have a five-minute disco session to ease the isolation tension that sometimes happens in home offices. Either way, moving around will feel so much better on your back, give your glutes and legs a tiny work out and make you feel like you've got many options for office comfort.
You don't have to get a loan to afford some of the crazy stand-up or sit-stand desks advertised out there!  I've seen some desks with lots of options get upwards of $1,000-$2,000 USD!  I've also seen some very inexpensive models but I'm very happy with mine. Autonomous.ai has an affordable and automatic solution just for you!
The photo below is linked to Walmart's lowest price for the dual motor XL!
Amazon and the Autonomous desk.